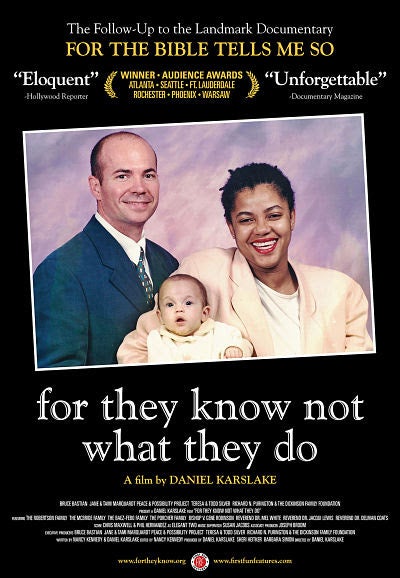 From the director of the acclaimed, FOR THE BIBLE TELLS ME SO, comes FOR THEY KNOW NOT WHAT THEY DO, a new documentary that explores the intersection of religion, sexual orientation and gender identity in America.
The arrival of marriage equality was seen by many as the pinnacle achievement of the march toward full equality for the LGBTQ community. But for many on the right, it was the last straw, and their public backlash has been swift, severe and successful.
In collaboration with religious conservatives, politicians are invoking both the Bible and the U. S. Constitution in their campaigns for the "religious freedom" to legally discriminate. By telling the stories of four families struggling with these issues, the film offers healing and understanding to those caught in the cross hairs of scripture, sexuality and identity.
Ticketing Information
Tickets are $10.00, and a significant portion will benefit OUT at the Movies. OUT at the Movies will provide the screening link until August 16th at 11:59 PM.
All of those who purchase a "ticket" to stream the film will be entered in a drawing to receive prizes including 2021 OUT at the Movies International Film Fest passes, two invitations to the festival's VIP party and two pink wristbands for our next Key West in Winston-Salem celebration (hopefully in the spring of 2021).  Winners will be notified via e-mail by August 23rd.
If you have questions please contact Rex at rex@outatthemovies.org or 336.918.0902.